5 Reasons to visit the Pioneer Woman Mercantile
---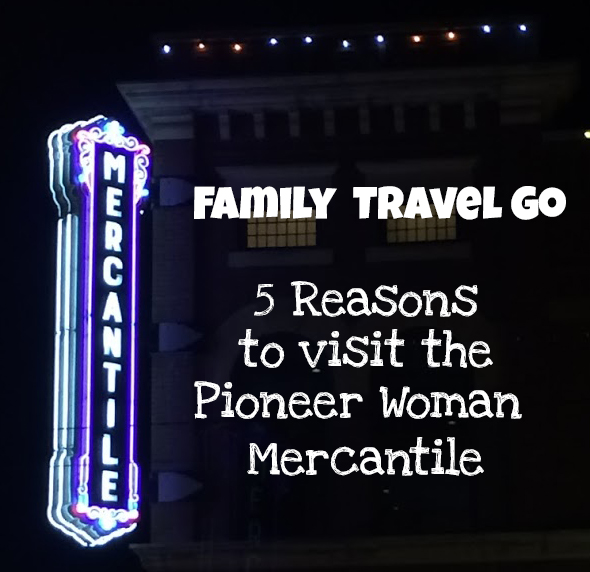 5 Reasons to visit the
Pioneer

Woman Mercantile in Pawhuska, Oklahoma.
 Why in the world would you want to go to Pawhuska, Oklahoma to see the Pioneer Woman Mercantile? Well let me tell you why.
The Pioneer Woman Mercantile has been a popular destination since its opening in early November of 2016. It's popularity is due to Ree Drummond's television show the Pioneer Woman on Food Network.
Here's our 5 reasons you should visit:
5. One heck of a dinner! A variety of delicious food for a decent price. The restaurant has a great selection of tasty meals. (Check out our restaurant review on our Foodie Section!)
4. The gift shop has a unique selection of decor, toys, books, tools and more, that make perfect gifts ! They really have something for the whole family! We got some Interstate Bingo Cards that we use on all of our road trips!
3. Books! Recipe books and Children's books so you can improve cooking skills and get some new bedtime reading material for your kiddos . Cash and Cale love Ree's Charlie the Ranch Dog Series!
2. Kitchenware and cooking utensils. The gift shop is filled with unique and handy things to add to your kitchen collection.
1. You might even get to meet the Food Network star Ree Drummond herself along with some of the other stars of the show! She was signing autographs and taking photos when we visited! We also met her husband "The Marlboro Man" and some others.
Want directions on how to get to the
Pioneer

Woman Restaurant check out the Google map below.
Check out our Snapchat Story of our day visiting the
Pioneer

Woman Mercantile in Pawhuska, Oklahoma
Thanks for reading, if you have any questions or anything you'd like to add please leave us a comment below we would love to hear from you !