Magic House Children's Musuem
---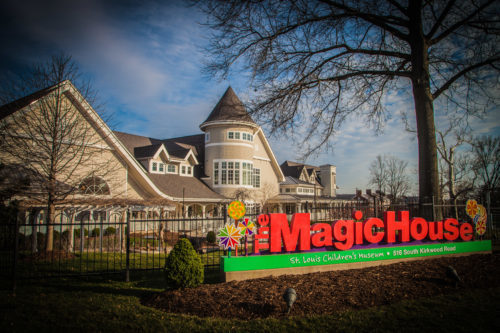 Magic House Children's Museum
The Magic House Children's Museum is not your average Museum. It truly is a magical place where kids get to use their imagination and get hands on with all kinds of learning experiences.
The Magic House is located in St Louis, Missouri not far from many other family friendly attractions.
This museum  is aimed at children of all ages. Our boys Cash (age 5) and Cale age (5 months) both loved their experiences at the Magic House. As did Kayla and myself. I felt like a kid again!
There are multiple floors with different kinds of activities. Upon entering we visited the temporary exhibit – Daniel Tiger! (Based on the popular Children's show and books on PBS and Netflix) It was more than awesome!
On the same floor there was a construction area where kids get to learn everything about building houses. Cash loved this area, it was hard to get him to leave. He got to use foam bricks to stack up in a real house frame, connect plumbing pipes to a sink, put insulation in the walls, pretend to paint the house and dig with tools in the sand.
Other areas included a government area where you could explore the Presidential Oval Office, the Judicial Branch and the Supreme Court with working microphones, cameras connected to TV's and more. There was also a mock Grocery store, Bank, Library, Giant Slide, and an electricity Ball (that makes your hair stick up) and much much more.




Here is our YouTube Video from our Snapchat Story from Day 1 of St. Louis and it includes our visit to the Magic House along with more St. Louis fun!

The Map below shows exactly where and how to get to the Magic House!
Have you visited the Magic House before? Or have you visited children's museums ?
Please let us know what you thought in the comments below.
Also check out our other Missouri Posts for more fun things to do and see!
Check out our visit to the Chocolate Chocolate Chocolate Factory!