Pizzeria Rustica Foodie Review
---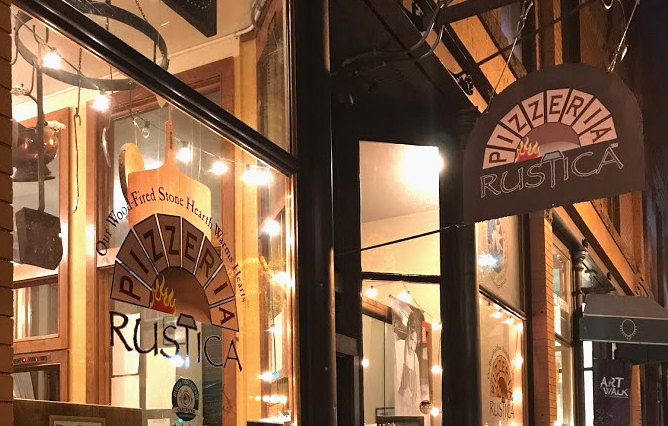 Who loves Chocolate?!?!?
If you love chocolate you should visit St. Louis' very own Chocolate Factory and take the FREE tour! Yes, it's completely FREE and you even get to taste a freshly made piece of chocolaty goodness. This magical place is known as the Chocolate Chocolate Chocolate Factory.
Pizzeria Rustica – Foodie Review
Pizzeria Rustica is 

Delicious, Original and Fun! 

They offer Neapolitan Pizzeria in Historic Old Colorado City within Colorado Springs.

The Food
Pizzeria Rustica obviously has pizzas but they also have a selection of pastas and calzones. We ordered some pizzas and they were cooked and brought to us faster than we expected. They were tasty, the cheeses and sauces tasted fresh and the crust was soft but thin. They have a variety of exclusive pizzas. Their specialty is Neapolitan wood fired pizza. We ordered the Cinque Formaggi it was amazingly cheesy.
The Service
The wait staff was friendly and quick. We were welcomed by a hostess on arrival, who quickly found us a table. Our waitress was friendly and knowledgeable about the menu. She kept our drinks filled and checked on us routinely.
The 

Experience
The restaurant had comfortable seating with delicious smells from the pizzas cooking in the hearth fireplace oven. We enjoyed the wonderful weather in the outdoor seating. There were twinkly lights, a great view of Colorado Ave and some guests even sat and ate with their adorable pups.
The price seemed average for specialty pizza and was totally worth it considering the quality of food and service. Each of us enjoyed our experience at Pizzeria Rustica and ate up all of the delicious cheesy pizza.
We all enjoyed the pizza and would recommend it to anyone visiting the Colorado Springs area. For more information about Historic Old Colorado City check out our Post!
Check out our video from Day One of our Colorado Springs Trip including our visit to Pizzeria Rustica!
Below is the map showing Pizzeria Rustica
For more information visit the official Pizzeria Rustica Website!
Have you visited Old Colorado City? What did you think? Please let us know in the comment section below!